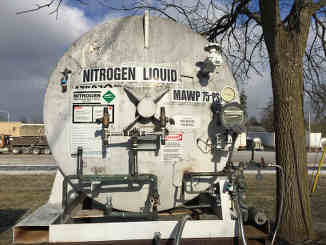 Take the worry about your liquid nitrogen needs or your tank going dry. We have small scale to bulk delivery available on the farm or in the clinic.
We have liquid nitrogen always on hand at our Ovid, Michigan office. Thus you can bring a cryogenic vessel there and we can recharge it, without added delivery costs.
For service to your farm, ranch or kennel, we provide these options:
You can pay per fill on our delivery routes, which are scheduled eight or ten weeks per visit (depending on your location within the lower peninsula of Michigan).
You can pay per year on our delivery routes, the price is based on whether you have a dairy herd, a beef ranch, or any other specie, for year-round service.
You can pay per year for seasonal delivery, with storage of your tank in our office between breeding seasons. This is less than all-year farm delivery.
Additional tanks at the same location receive a discounted rate (the travel costs are figured into the first tank's pricing).
For service to your clinic or laboratory, we provide these options:
You can pay per liter, as long as there is a scale we can access for weighing the tank before and after filling to be accurate. Clinics in some locations can receive monthly delivery if required. Otherwise we return eight or ten weeks. There is a basic delivery charge in addition to the nitrogen metered